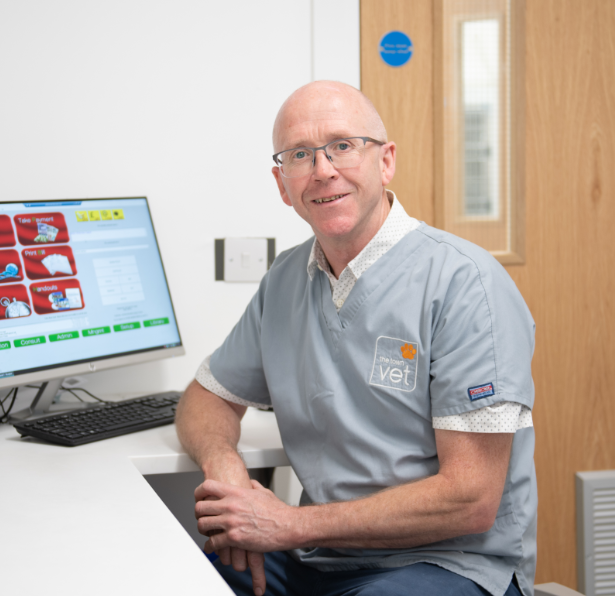 Patrick Murray
BVM MRCVS Veterinary Surgeon, Director
---
---
Having qualified from Liverpool University in 1988 Patrick spent a few years in mixed practice in Dewsbury and then North Down.
He initially operated as a mixed practice from a mobile unit in Charles Place but later progressed to opening the existing clinic in William Street and specialising in small animal care.
---
Maxime
Vet
---
---
Maxime graduated in 2018 and began her career in a mixed practice in Co. Tyrone. Originally from Donegal, she decided she didn't want to stray too far from home, having spent 4 years studying in Slovakia!
Going from farm animals to smalls was a natural progression for her, especially considering she is a self-professed crazy cat lady. Whilst she loves all animals, cats are her absolute favourite and she will happily greet even the most scared feline in the clinic.
When not working Maxime enjoys spending weekends in her native Donegal, accompanied by her three cats and lovely whippet. .
Kathy
Nurse
---
---
Kathy joined the practice in 2021 as the head veterinary nurse and the manager of the practice. Being qualified for over 20 years in veterinary nursing, Kathy is an enthusiastic member of staff. Kathy helps with surgery and after care and may be seen out at reception giving advice to clients or doing nurse consults.
When Kathy has her time off, she spends her time out doing water sports or rock climbing while looking after her variety of different pets at home and her kids.
Gillian
RVN BSc
---
---
Gillian joined the practice in February 2020. Having graduated from the University of Aberdeen in 2003 with a Degree in Animal Care - she went onto study at Greenmount College for the Diploma in Veterinary Nursing and won the Norbook Cup in 2006 for highest placed exam results in N.Ireland.
Gillian has a keen interest in all aspects of Veterinary Nursing. In the past few years she has successfully completed courses in Anaesthesia and passed courses studying Emergency Critical Care and Surgical Nursing with the Royal Veterinary College London.
She is a full member of the British Veterinary Nursing Association and likes to keep up to date with new clinical knowledge to enhance learning so to provide a high standard for nursing the patients.
At home in her free time, she enjoys the great outdoors with her little boy and husband. Gillian also shares two cats and a beautiful fawn Staffy named Molly with her Dad.
Méabh
Veterinary Assistant
---
---
Méabh joined our team in 2016 at the young age of eighteen. In the years of working at the practice Méabh has learnt many skills and helps in all areas of the clinic.
An efficient and enthusiastic member of the team Méabh hopes to pursue a career in Veterinary Nursing after qualifying as an SQP in 2019. Méabh can be seen helping vets holding pets or out welcoming costumers.
On her time off Méabh loves to spend time with her dogs at home and going out for walks with them or out exercising on her own.
Natalie
Veterinary Assistant
---
---
Natalie began working within the veterinary industry when she was 16 years of age, going on to complete her degree in Animal Science in Aberdeen. Natalie enjoys working within all areas of the veterinary practice but has a real passion for working with and caring for the animals. Natalie qualified as an SQP in 2018.
On her time off she enjoys hiking with her pet dog and spending time with her daughter.
Orlagh
Veterinary Assistant
---
---
Orlagh joined our team in November 2020 after a career change from the motor trade. Initially hired as a veterinary receptionist Orlagh is mostly seen up at the front desk helping clients. Since starting Orlagh has grown to love working with animals and has become very interested in pursuing a career in Veterinary Nursing.
During her downtime Orlagh loves spending time walking her dog and relaxing with her cats.
Lynne
Veterinary Assistant
---
---
Lynne came straight from school to join William Street Veterinary Clinic and is the longest serving member of staff since the clinic was established in 1995. A well-respected member of the team Lynne is a reliable and a knowledgeable mentor for the students on work experience and new staff members. Lynne qualified as an SQP in 2019.
Lynne spends her time off at home with her cats, dog and two sons.
Katrina
Veterinary Assistant
---
---
Katrina started as a part-time nursing assistant in the practice, and currently is part of the administration team. Stock rotation, telephone advice and post-operative care are all part of her daily role. Katrina is also a qualified SQP since 2019.
During her down time Katrina is normally at home chilling with her two dogs or spending time with her loved ones.